Sonia Vignati on the process of creating a new product
Sonia, you are without a doubt the person who has more experience with the Castelli company than anyone else. From the sewing department at an external vendor you have moved on to become the main interface today between Steve, the designer and the pattern office. But first things first: describe your job as best you can.
Steve is kind of the technical mind behind our product. He gathers the information and the needs of the pro riders. Maria Teresa, the designer, designs the collection to include the items Steve requests. I come right after, and I have to work closely with them to define the collection.
I have to follow the product from this phase until it's finished. Based on the technical requirements specified by Steve and the aesthetics suggested by the designer, I have to choose the right materials and the appropriate components, from the reflective piping to the best zipper to the label, identifying all the possible solutions, taking into account functionality, style and the cost of the finished product.
I am essentially the hub between design, pattern making and research.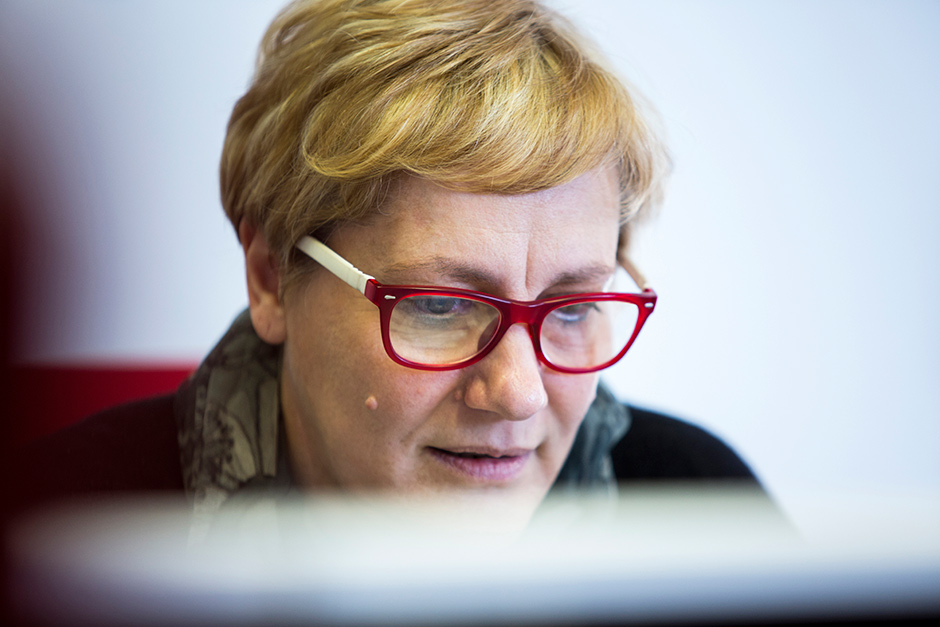 I have a background in pattern making, cutting and sewing; I started working at the machine. I prepare the technical specifications, outlining how to sew the garment and the seat pad.
I do research to find suppliers that can offer the type of production we want for the garments and to identify the necessary technologies.
Before Andrea Peron came, I followed the pro racers. We went to them to take their measurements so we could make their clothing to measure.
I still do that today, but I work mostly just with Alex Zanardi and Vittorio Podestà, with whom we have a strong partnership.
Tell me how you ended up working at Castelli.
I worked in a knitwear factory in Abbiategrasso, where I live, near Milan. It was 1981, and we sewed jerseys and shorts from wool. Lycra hadn't come yet.
From there I was sent to learn to attach seat pads at Vittore Gianni. Maurizio Castelli owned the scorpion brand he created in 1975, but he was also heir to the sportswear company of his father, Armando — Vittore Gianni in Vigano. Maurizio's wife, Fatim, managed the factory.
From 1990 to 1994 I worked for an external producer for Castelli, and in September 1994 the producer was acquired by the Castelli company.
I was able to work closely with Maurizio for only a few months, unfortunately, because he died of a heart attack in March 1995.
Tell m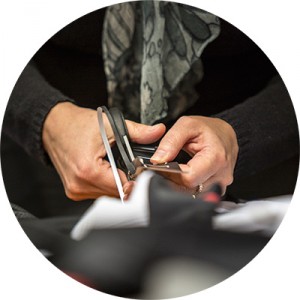 e about Maurizio Castelli.
He was a man who had an unbridled passion for cycling; he lived for cycling. He could have been a talented professional, but an injury prevented him from continuing his career in the sport.
Cycling was his life, and it was for this reason that he always managed to be ahead of the times and was always the first one to test the garments, even when they were still in the prototyping stage.
He had an idea, and right away he'd come to you to ask if it would be possible to develop it so he could try it.
I remember one time, during the short period I was able to work with him, when he came to ask if I could make him a terry-cloth headband that would pull away sweat but at the same time not be uncomfortable.
His passion for cycling was his strength, which allowed him to always stay a step ahead of everyone. He had already started aerodynamic studies, and he followed the pros more closely than anyone else. He didn't just go to the races, but he'd load the riders into the car and go with them to the best supplier to make sure they always had the best.
He knew how to make people like him. He was generous, and if you happen to talk to technicians, mechanics or pattern makers who were able to work with him, they all always have a good word or leave you with a positive story about Maurizio, whom they remember fondly.
Maurizio was the one who taught me how important it is to address the requirements of the pro riders.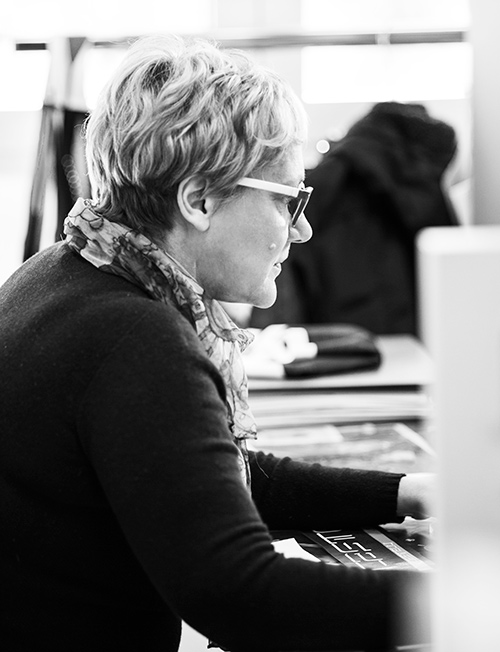 Tell me about the transition from the management in Milan to how you arrived in Fonzaso, with Manifattura Valcismon. What happened after Maurizio's death?
I've really experienced every stage, from moments in the company's life with Maurizio, to when he died, to the transitional management, which lasted about eight years, to the acquisition by the Cremonese family.
After the death of Maurizio, four people who were his best friends took over the management to carry the business forward.
Initially they were able to continue with the company — and in fact we must remember that at the time they were able to sponsor great cycling teams — but internal conflicts and the brand's loss of identity due to the loss of an important patriarchal figure like Maurizio caused the company to slowly disintegrate. So it had to resort to acquisition by another company.
Dr. Cremonese, when he arrived, immediately showed a willingness to restore a brand like Castelli, with his strong experience with the company's line of cycling and cross-country ski clothing, which he was and still is the owner of, and also the strong passion that he has always had for the sport.
Now I see in Steve and the Cremonese family everything I saw in Maurizio Castelli.
Tell me about your best day at the company.
There are many, but I could tell you that the most beautiful days I've experienced in the company are above all those where there is sharing, being together, like when the whole company went and had a barbecue on Nevegal to watch the team time trial in the Giro, or when we went to see the Giro again on the Zoncolan.
Other memorable days were when I went to London for the 2012 Olympics to see Zanardi and Podestà, because of my friendship with them.
Just think — right after the medal ceremony they came to give me their bouquet of flowers while I was on the side of the track. I still have the flowers at home; I dried them and put them in a display case.
Then I also went to see Alex at the Ironman he did on Kona. It was another wonderful experience that I was able to have with the company.
Other good memories that I relive every year are those of the party we have during the Castelli 24-hour race in Feltre: an event in the city center that always creates great team spirit among us employees.
And your worst day?
The day the factory in Rosate closed. It was my birthday, November 29, 2005. It was a significant one, and everyone was wishing me a happy birthday, but I was crying. They thought I was emotional because of the personal milestone, but instead it was because with the factory closing I saw a piece of my life slipping away.
A while back you spoke about the Y seat pad. Can you tell me about this invention of yours?
I was in the Castelli factory with Marco Mazza, and, as happened often, I stayed in the sewing room after everyone left. It was probably 6:30, and with two or three seat pads we had we started to put them together, trying to see the advantages of one or the other.
We made this first prototype, and Marco, who of the four partners was the one who loved cycling the most, tried it.
Everything was made by hand. It was the late '90s, and 3-D technology wasn't yet being used for developing things like this.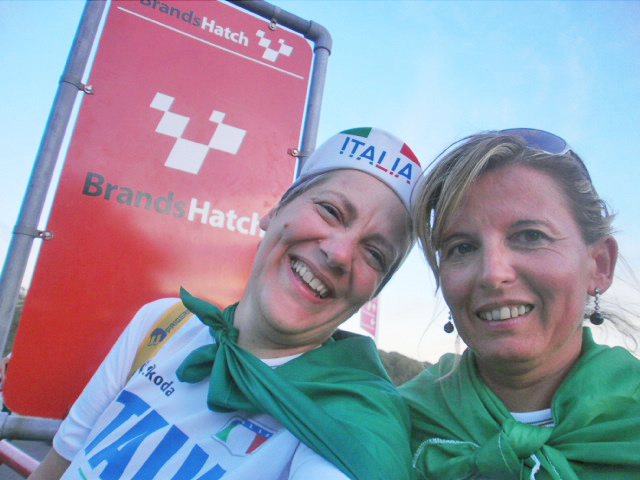 Tell me about Paola Pezzo, who was an athlete you worked with personally.
Paola Pezzo was talked about a lot because when she won it was swelteringly hot, and when she zipped open her jersey she showed her cleavage. So when she got back here she was called onto every imaginable TV show, but she was a very unpretentious athlete and person.
When she came back to the company, we had a party, and for the occasion we had her wear a silver skinsuit, in the style of the Rockettes, the musical group.
She asked me if it would be possible to make a skinsuit with a higher neck in the front and the zipper in the back, so people wouldn't talk only about her cleavage.
We made a lot of different skinsuits for her, for many races — leopard print, crocodile or any other color — always very feminine but still far from the image of a pinup that people had assigned to her.
You work here in Fonzaso, but you still live in Abbiategrasso, where you return on the weekends. That's three and a half hours away. What do you listen to while you drive?
Most of the time I listen to the radio — news or current events — but lately I've noticed that I keep the radio turned off and my mind keeps working. I have time for myself, to think. So much so that I get to Milan without even noticing that I've driven all that distance.
And then many ideas or solutions come to me while I'm driving.

What do you do in your spare time to relax?
It varies. If I can, I go for a walk or a run, but in the end I don't have much free time: I'm here all week and on the weekends I try to rest between home and family obligations.
On Sundays I see my son, who comes to visit us.
What's your next project? The dream you want to achieve in the near term?
To go to Rio to see our Paralympic athletes!
Alex Zanardi, Vittorio Podestà, Francesca Porcellato and Luca Mazzone will be there, and I'm going to see them! I really hope they can bring home as many medals as possible.
---
THIS AND MANY OTHER ITEMS CAN BE FOUND IN OUR PHOTO FINISH MAGAZINE
Read it on Issuu
---