Servizio Corse – Customized cycling and triathlon clothing
Our friends at bikeboard.cc came by the office to visit our European Servizio Corse Custom team division in Fonzaso, Italy.
A sneak peek behind the scenes of the Castelli Servizio Corse Custom Team Division and followed the production process of our own custom-design clothing.
Individually printed, functional clothing is still very popular among hobby and amateur cyclists. Castelli is considered to be the inventor of sublimation printing, a very common process of manufacturing these days. We went to Manifattura Valcismon SpA, headquarters of the brands Castelli and Sportful, located in Fonzaso (Veneto) and glimpsed behind the scenes.
25 years ago, the main production of Castelli and Sportful was run in Italy. Today, the headquarters is only production plants for samples, prototypes, smaller custom team orders and the whole clothing for sponsored professional teams and athletes. The majority of the inline collection production and custom team clothing are outsources to different factories in Europe. At its headquarters, Manifattura Valcismon SpA employs approximately 120 staff for research & development, design, marketing, sales and storage.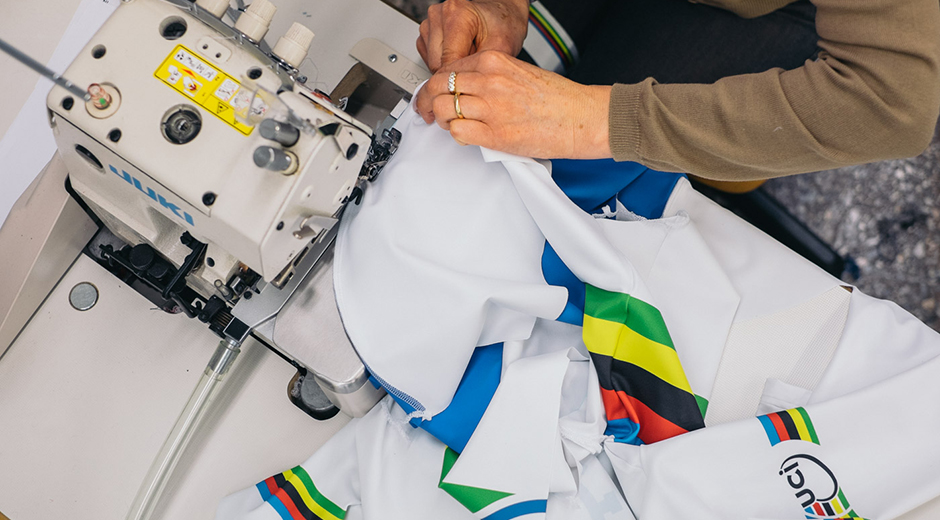 R&D and small series production
Developing and testing is key for Castelli and Sportful. That's why prototypes are tested by employees during daily lunch rides or at weekends under various weather conditions. In a second step, refined prototypes are tested by their pro athletes, former professionals (e.g. David Millar – a good friend of the company) and brand ambassadors. Their feedback and test evaluation are crucial for final adjustments, before a new product is put into production.
Just like the prototypes, Castelli's high-tech seat pad Progetto X2 Air is "Made in Fonzaso". It consists of three different components (viscous comfort inserts, seamless integrated cushioning layer and skin care layer) from as many European suppliers. The final production is done at Castelli's headquarters and is distributed to the different European factories.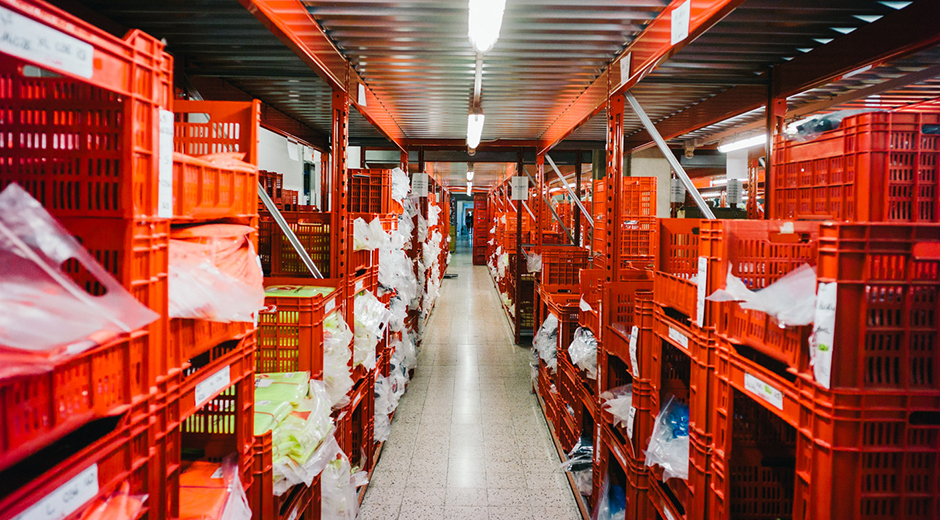 Central warehouse
The northeast Italian location also hosts three central storage facilities of the brands Castelli and Sportful:
Materials warehouse, fabrics, zippers, seat pads, printing paper, labels, used to cover in-house and foreign factory's needs.
Temporary storage for Servizio Corse: Manufactured custom team clothing arrives from factories are being checked for quality and quantity and are finally shipped to the customers.
Central warehouse for the regular Castelli and Sportful collections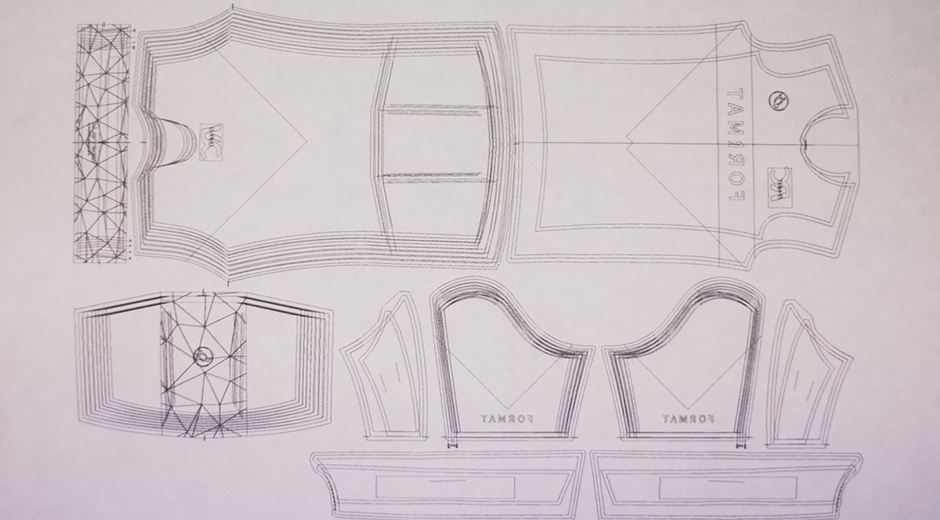 Custom Team order "FORMAT RC"
Highest quality, customized cycling clothing in team colors is at least as important as the bicycle for hobby and amateur cyclists. Acquisition is similarly complex. And when the manufacturer of choice is selected, then the next challenges are pending: choosing the required models and cut, design development, color code and quantities.
Gone are the days when only choosing between casual club cut and tight race cut. Today, clothing industry adds that little bit extra with titles like "Elite" or "Aero cut": more aerodynamic, lightweight, breathable, comfortable and even cooling, developed from professionals for professionals. Let's face it: Who would not like to be a pro.

We from FORMAT RC (stressed, depressed, but well dressed) are of course no exception. Fortunately we asked for fit kits of our selected models. The result of the first fitting was sobering. We changed cutting-edge "Aero Race 5.0 Jersey" for "Team Jersey" and in terms of Sanremo Speedsuits we preferred the more casual 2.0 version (Don't get us wrong. 2.0 is still quite tight and aero.).
Finding out the right color remained as the most significant source of uncertainty. We wanted to have "Chartreuse Traditional". Not fluo yellow, not lime … just Chartreuse. The Pantone® color chart wasn't a big help. Our color of our choice seemed fabulous like the famous Ferrari-Red or the secret recipe of Coca Cola. In the end, a color proof of the three most obvious Pantone® colors on a Castelli fabric was the solution … and the number of the beast is: Pantone® 396C.
We prepared logos, patterns, design drafts and Pantone® codes and sent everything to Castelli's Custom Team office. Five emails and some minor modifications later we gave our final approval so it was thus the Italian's turn to take further steps.
When we revoked our final approval and redefined the "final" Pantone® code three days later, we were prepared for the worst, but received this reply:
"Do you like to test us? :-) I am confident, that we will be able to manage that."
Bernhard Plainer, Castelli
And they made it possible…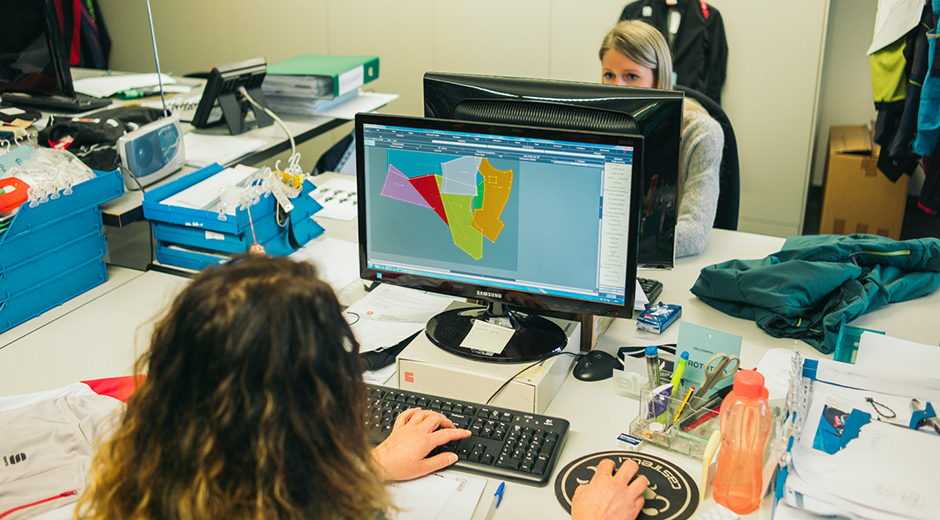 Product development
The life of a product begins with the first idea, as a draft followed by many refinements and product development down to the market introduction. Visions of designers, pro riders and product managers are specified and optimized during the pattern engineering process.
This division is also responsible for creating collections, elaborating patterns, sizes, colors, length of zippers and much more – for every type of clothing of the two brands.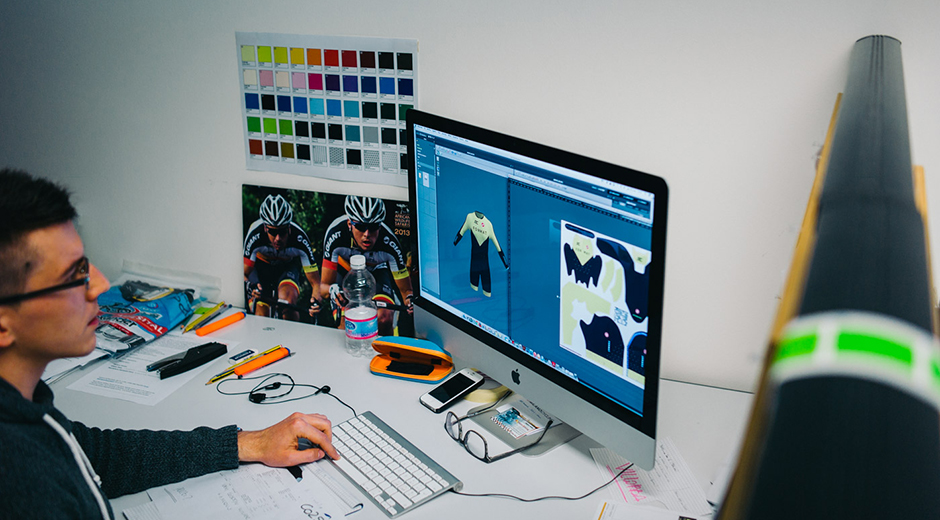 Custom Team (Servizio Corse)
Roughly three-quarters of all orders already arrive with a clear idea along with vector files. If a design or logo cannot be provided in vector format, Castelli's design department will do that job. In case of complex and time-consuming operations, extra costs may incurred.
All this work is done with Adobe Illustrator, which enables designers to show and optimize the patterns instantly. A design always has to fit into the pattern of the smallest size under consideration of a safety margin.
Regarding colors there are no limits to the imagination. Customers can select every single Pantone® color. If an item consists of different fabrics, Castelli automatically adapts the shades of colors in order that an identical look is guaranteed. For even greater accuracy in color reproduction, a color proof on the desired textile can be requested.
To get a better picture of the final product, special software plug-in creates a 3D-view of each garment and is sent via email. Customers are able to judge logo positions, gradients and seams. In the near future an even better feature with interactive 3D-view, 360 degrees rotation and zoom will be available.
After some corrections (if required), customer approval and a final check in the graphic department, the finished layouts are ready to print.
Preparation
In the meantime, the fabric patterns of the different garments are cut out of the textile, packed together with the other necessary components and are finally graded by size.
That guarantees, that everything fits together and facilitates further processing in the sewing rooms. In addition costly errors can be avoided.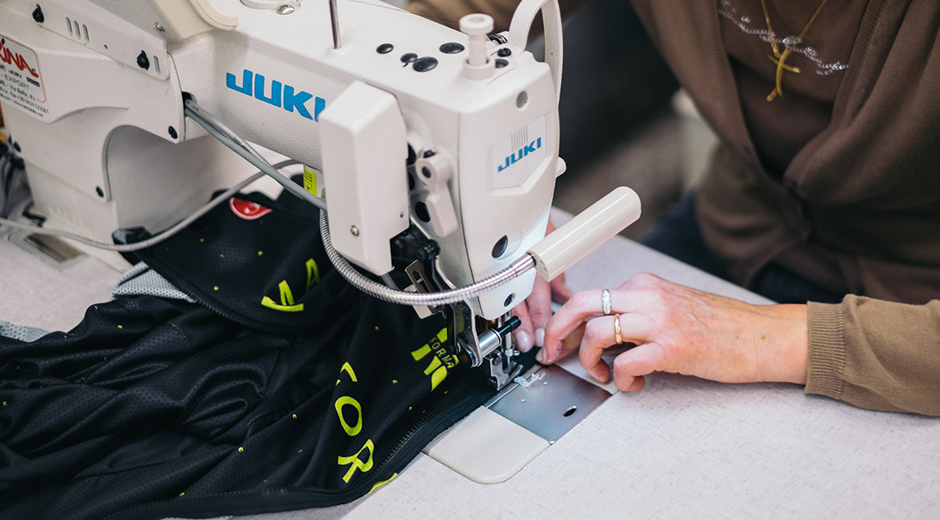 Production
Printing of almost all custom team articles is usually done via sublimation transfer. That means graphics are transferred to polyester-coated material by using heat and pressure. During that process, the ink penetrates through the polyester layer and results in more durable and brilliant printing. The surface oft he printed fabric remains completely unchanged. Fabrics preserve their full functionality and breathability.
Step 1: Printing on paper
Castelli uses a total of 20 plotters to print the designs on a heat transfer paper. Some of them are solely used for neon and spot colors.
Step 2: Sublimation onto textiles
The real sublimation process takes about 40 seconds. Thereby the transfer paper is placed over the fabric patterns and is pressed by a preheated transfer press at 205 degrees Celsius. It is of the utmost importance, that all positions of the individual patterns are marked meticulously precise.
Fabrics can be pulled off from the paper after a short period of cooling time and are passed on to the tailoring line along with other components and cutting plans.
Step 3: Sewing
Fabrics, labels, pockets and seat pads (where necessary) are sewn together with the help of industrial sewing machines. This is followed by cuffs, hems and zippers. Shifts of designs or texts at the seams require maximum precision. Sewing in zippers is a science of its own.
It takes approximately 15 minutes to sew a jersey or a bib short. Production of a speed suit takes much longer.
Sewing machines parade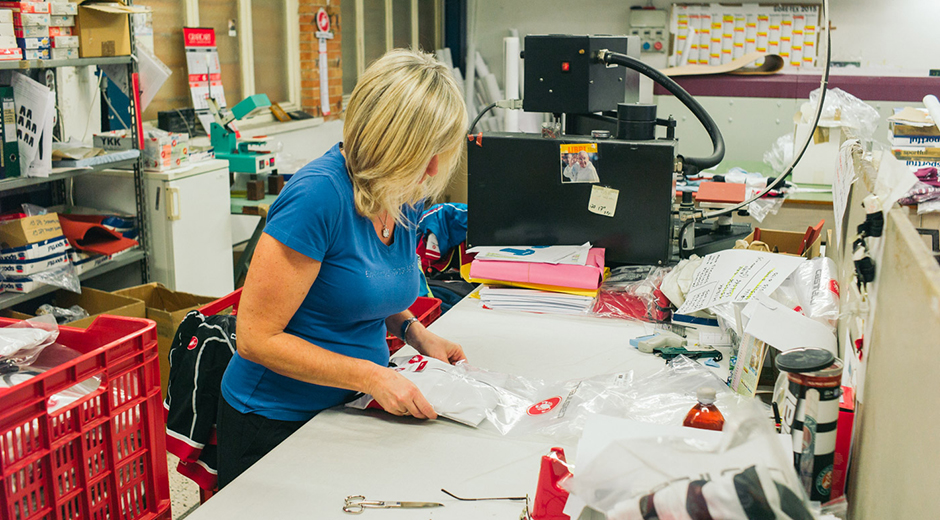 Packaging and shipping
After the production clothes are steam ironed, checked, labeled, packed and graded by model and size.
Delivery notes, customs/transport documents and invoice round out every customer order. Ready to go!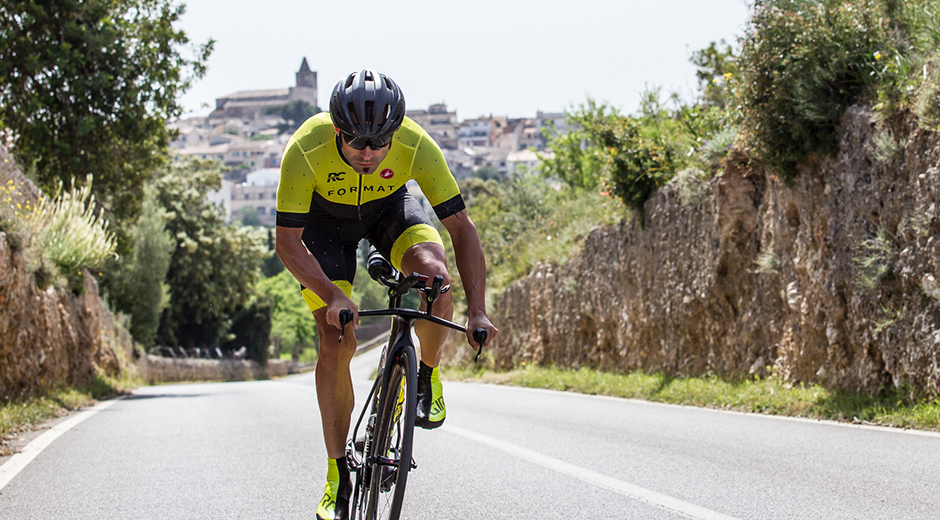 Castelli Sanremo 2.0 Speed Suit
Castelli's speedsuit combines aerodynamic benefits of a one-piece suit with high functionality of a professional jersey and suitability for daily use. The first Sanremo Speedsuit accompanied Johan Vansummeren to his epic Paris-Roubaix victory in 2011. Two years later the Sanremo 2.0 Speed Suit (see photo right) was introduced as collection item and custom team version. Simply put, it's a combination of "Body Paint" bib short with Progetto X2 Air seat pad for maximum comfort and "Aero Race 4.0" jersey.
The full front zipper and missing bib straps makes it even more special. Body Paint construction and high-quality arm and leg endings ensure exceptional fit. State-of-the art fabrics are also manufactured in other areas to avoid riding up and to provide excellent fit. Mesh fabric at the back, ribbed armpits and Lycra for the short section and the front rounds out the material composition. Three rear pockets with limited-stretch back keeps pockets in place and provide plenty of storage space.
Compared with the in-house "Team Jersey", Castelli claims a 15-watt saving at 40 km/h.
Castelli even talks about tests that showed a saving of 24 watts for the newly introduced Sanremo 3.0 Speed Suit (loosely speaking a combination of Aero Race Jersey 5.0 and Body Paint 2.0 Bibshort). However, the race cut oft he 5.0 Jersey is so extreme, that it's only a piece for real racers.
Sanremo 2.0 Speed Suit short sleeve | Size: XXS-3XL (Custom Team collection, at least 10 pieces)
Sanremo 3.0 Speed Suit short sleeve | Size: XXS-3XL (standard collection)
Body Paint 3.0 Speed Suit LS long sleeve | Size: XXS-3XL (standard collection)
Custom Team Information
Custom Team Catalogue Road/CC 2016
Custom Team Catalogue Triathlon 2016
Care information
Castelli Custom Team Homepage
Castelli custom design inspirations
Photos: © bikeboard.cc | Philipp Forstner (@forstus)
Some triathlon design examples …
---