Fraser Cartmell: My journey to Hawaii 2015
There had been a long time between drinks. It was 5 years since my last (and only) race on the Big Island – the biggest race of them all in non drafting triathlon; Ironman Kona.
This goal of qualifying for Kona once again had essentially started two years beforehand when I was on the island supporting Ali on her very first attempt at the distance, but started for me in serious earnest just over one year ago at IM Wales. However, with some reasonable reflection since returning home I can now grasp why it was this very (drawn out!) process that resulted in my finish time being over an hour slower than ever before in an M-dot.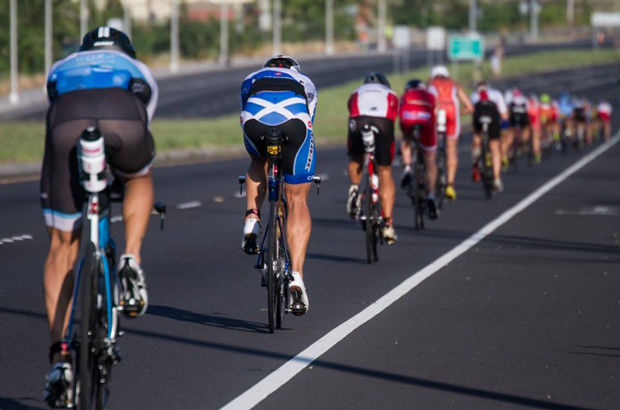 Undeniably, once I had qualified for Kona it was 'head down, bum up' territory. You believe in yourself to be able to ready on that given day, which admittedly was not that far away anymore. But you tell yourself it's far enough away.
As a brief background, qualifying as a Professional for Kona is determined by a points scale (Kona Pro Rankings, or KRP). Athletes accrue points via 5 scoring races, at least one of which must be an Ironman, and up to 3 can be 70.3s. The top 40 male athletes in the KRP ranking at the end of July gain their slot in the '1st cut' and a further 10 athletes earn their slot at the end of August in the 'final cut'. Ideally you get amongst the initial 40; more time to recover, regroup plan and train leading into Kona itself, but aso far less stress and potential travel than those left scrabbling for the final ten golden berths.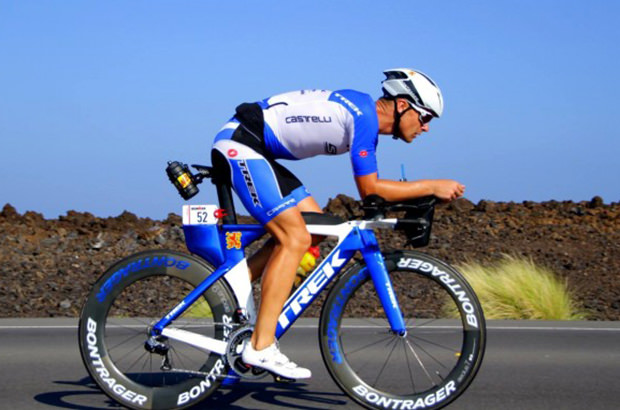 I qualfied for Ironman Hawaii as one of the final ten athletes, with some 7 weeks of preparation time left before toeing the line at the biggest and busiest dance. Plenty of time!
The reality was somewhat different, and less than 25km into the bike ride I knew I was in all sorts of bother – no more than 90mins since the famous cannon had signalled the race start. There was simly nothing in the tank; no power, no gears to go through and no torque or change of pace to reply upon like normal. Certainly none of the feelings I would prepare for whilst racing at this level. And just like that I watched as the aforementioned Hawi Express slowly rolled over the horizon and into the distance of the Queen K highway. For a few moments I was unsure of myself and not entirely certain of how to go forwards. – Unquestionably I was always going to be finishing this thing, but you don't plan for these bad days (at least I don't) happening so soon, in fact if at all. As such I was dredging my memory for figurative straws to grasp a hold of but out on the baking tarmac of the Queen Ka'ahumanu Highway there weren't many!
Reflecting on my process leading to Kona it is now fairly easy to spot the glaring obviousness that was my ill fated journey to the finish line, but hindsight is a wonderful thing. When you are in amongst it all the blinkers work extremely well at avoiding common sense!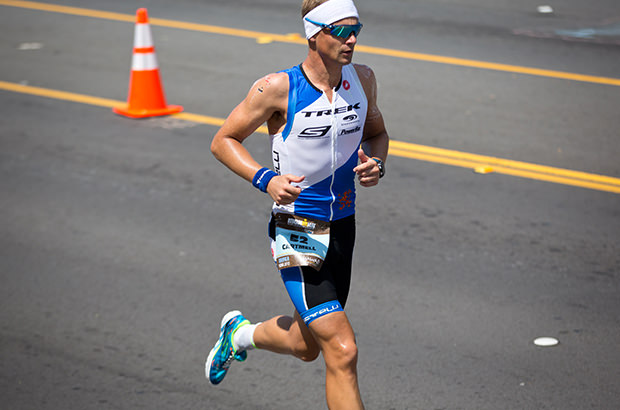 Roughly 13 months prior to race day I begun my KPR points tally with a 2nd place in IM Wales. It was a super start towards qualifying for Kona and left me with as much time to get a slot as I could hope for. However, I didn't then race well enough to add any sufficient points to my score for another 9 months. Go figure. By mid June I was hoping I could get to Kona rather than expecting to as I had back in Tenby, Wales. A further 2nd place in Bolton at IM UK put me within a whisker of the magic '1st cut' at the end of July, but I ended up at 42nd on the rankings and trying to figure out a new route to Kona qualification once again.
That route ultimately took me to Dublin 70.3 three weeks after IM UK where lady luck reared her unhelpful and ugly head. Whilst leading the race and more than certainly heading towards earning the required KPR points I punctured. C'est la vie. Indeed it was a French athlete who did go on to win that race! Perhaps rather than sit back, accept I had done all I could and hope the points I had would carry me through, 2 weeks later I was standing on an Indonesian island beach for the Bintan 70.3 start. Ironically the points I picked up there were irrelevant: I would have qualified without them but crystal balls are hard to come by in Stirling. I wasn't to know. The travel and fatigue accumulated from this trip certainly weren't irrelevant however. I'd pay for that some weeks down the line, but of course you tell yourself it'll be alright on the night. And you only tend to listen to people who are saying something similar!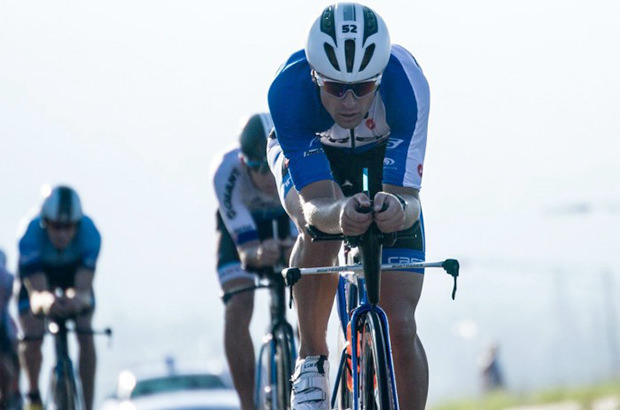 So, the Kona qualifcation period and process for me by numbers:
4 Ironmans (including Kona),
4 Ironman 70.3s (4 further Half distance events),
4 Continents, 20 weeks of training camps/trips away from home, 12 long haul flights and a further 32 short haul.
Quite the tally. Frankly speaking these numbers alone go most of the way to highlighting why it took me so much longer to get from starting on Dig Me Beach around 6.30am, to the corner of Ali'i Dr & Palani over 10 hours later. But finish I did, and I am proud of that.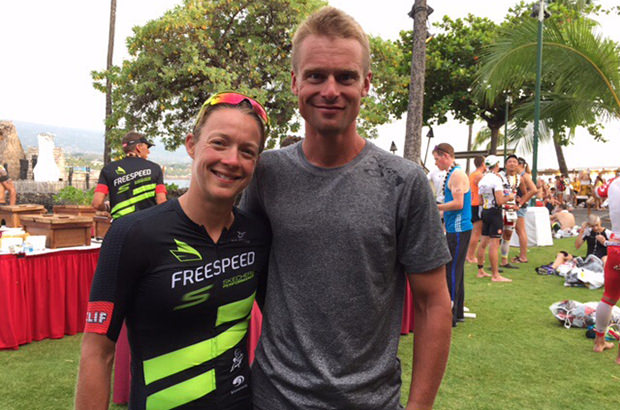 Thankfully the Kona experience wasn't all about me, myself and I. – A very sigificant part of the whole experience of Kona was doing it all with Ali. I watched her race there for the second time in a row last year and we both agreed I wouldn't be doing that again. If I was back this year, it would be to race myself and not to support again. (I never doubted she would manage to qualify!) So whilst I was slowly becoming a part of the Pro Womens race (I did my absolute best to get out of their way as they rode past me) I was scanning the age group race going in the opposite direction, hoping to catch a glimpse of her. I was able to (just as I was passed by 3rd, 4th and 5th place women) spot her bright kit and bike a mile off and she looked fab. The same was the case a few hours later on the marathon course when we passed each other. It was just enough encouragement to keep me making forward progress as I could see she was far up the field: 2nd place 30-34 and 3rd amateur overall was a brilliant result that Ali was delighted with, and shrugged off last years disappointment.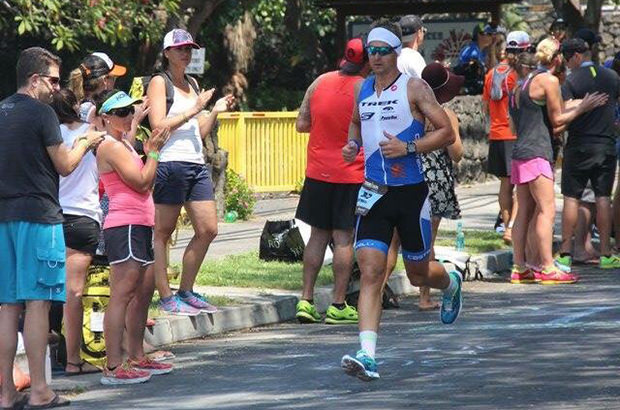 Kona the second time around may have been significantly slower but for many reasons it was still a trip that I enjoyed so much more than 5 years beforehand. Spending the experience with Ali and her whole Freespeed gang was a tonne of fun – a tremendously hard working group of people who fit this demading sport in and around such busy work commitments and family lives.
It would be completely remiss of me to not take time to mention my sponsors who helped me throughout this Kona Process, but most of all to the great people at both Trek and Castelli who went above and beyond by kitting me out in the best new race gear for the occasion – I for one reckon I was smartest looking Scotsman on that race course! (David McNamee might disgree
but I cannot fail to mention his superb 11th place debut result. It was brilliant to watch from the coalface itself. Chapeau.) Thanks once again to those at Skechers, Blueseventy, Powerbar, Oakley, CEP and Torhans for equipment and nutrition on the day. Special mention also to Mark Andrews from Trek who provided non stop mechanical support leading right into the race for both Ali & I but also a level of calm and positiveness that helps immeasurably in these pressured environments.
Not to forget Nick, Andy, Greg and all of the crew involved with Triathlon Performance Solutions who always supported the goal of getting myself to Kona, which means a tremendous amount. Finally, but they know by no means lastly, so much thanks to Mum, Dad, Blair and Abbie because without the unwavering belief from your family and those closest, this sport really is too damn hard.
It may not have been the result I hoped, planned or looked for on the Big Island, but lessons are always learnt and most tellingly – the sun will always come up again. Life goes on.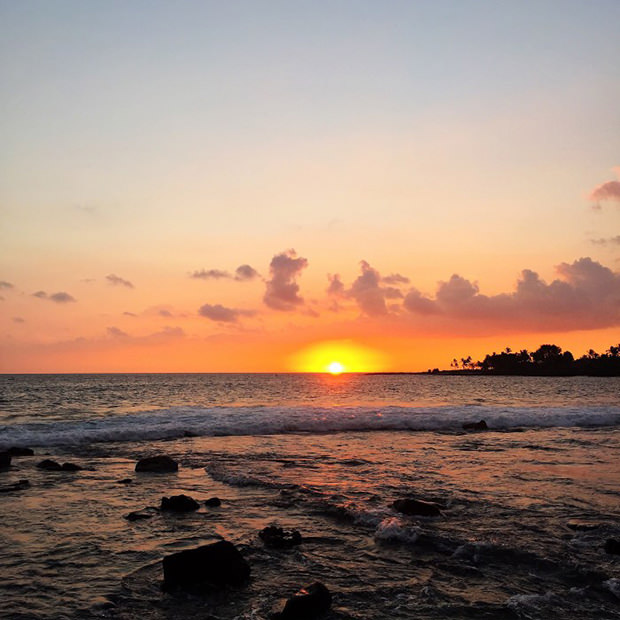 Photo credit/thanks go to: Richard Melik, Carolyn Kiper (my first ever homestay and perennial surrogate mother!), Kent Wong and Jimmy Johnsen (who incedentally won my fist ever Half distance race in Lisbon back in 2007!), Ingo Kutsche, Joel Sunderland
---