The 10 Best Cruiser Bikes in 2020
Looking to buy for a cruiser bike to go around the neighborhood or the nearby beach?
You probably have noticed that cruiser bikes come in different shapes and sizes.
So which one is for you?
Before you decide on which cruiser bike suits you, you might want to read up about the 7 things to consider before buying cruiser bikes. We go into detail each and every feature to look out for.
But if you're ready and all set, then let's get straight to the point.
Here are 10 of the best cruiser bikes today.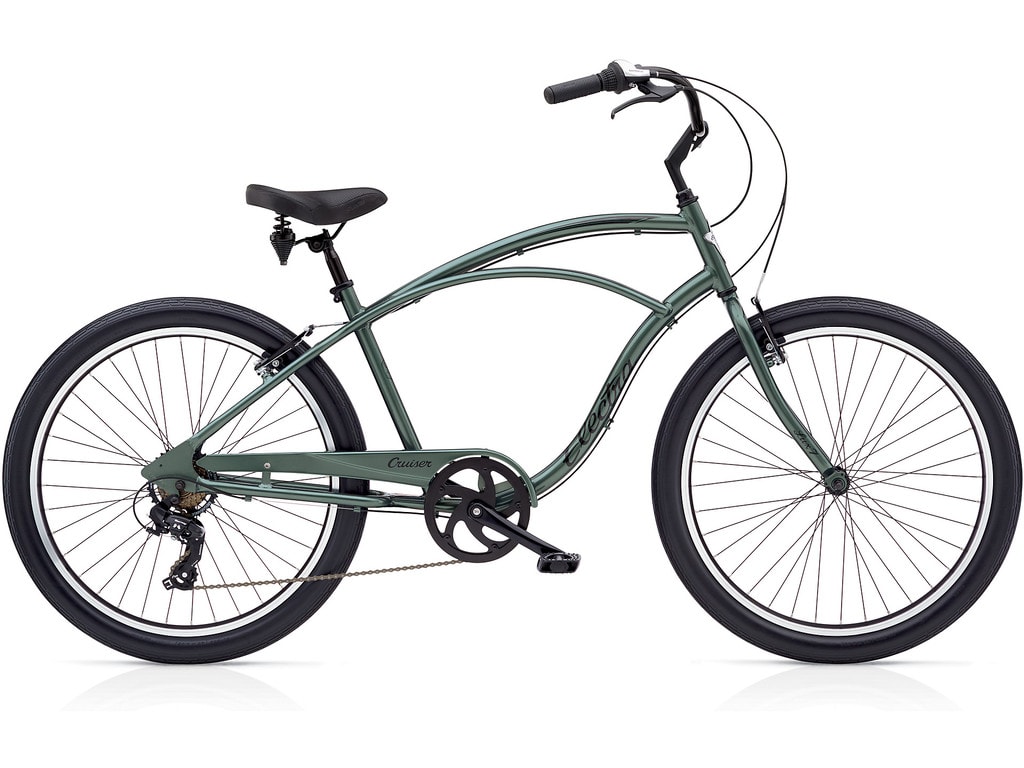 When Aesthetics Meet Performance, You Get An Elegant Beach Cruiser
When it comes to beach cruisers, aesthetics often trump performance. With the Cruiser Lux 7D you get both. 
This shouldn't be surprising given that this isn't just any beach cruiser. It's a Trek beach cruiser. 
So, in addition to the characteristic sloping top tube and down tube of a beach cruiser, you also get some nice features that will make it easier to make that commute to the trip. 
This includes a 7-speed Shimano drivetrain. It also features Trek's Flat Foot Technology, which allows you to pedal the bike properly in an upright position while also allowing you to put your feet flat on the ground when needed. This is a real plus, especially when biking in flip flops. 
Other nice features include easy-to-use handbrakes and a wide saddle with spring shock absorbers. 
A Low Maintenance Cruiser Bike that Withstands the Natural Elements
If there's something that can do a real number on your bike's chain and cogs, it's salt, air, sand and seawater. These corrosive elements can quickly eat through your bike's drivetrain. 
With the Priority Coast, you don't need to worry about a rusty chain because there is no chain. No, this isn't a balance bike. This is Priority's belt-driven beach cruiser. 
With a belt drive, you won't have sand clinging to the grease in your bike chain. Shifting is carefree too thanks to the Shimano 3-speed hub. Priority also touts its aluminum frame as rust proof. 
In addition to these low-maintenance features, you'll also love the classic look of this cruiser. This includes its bright white paint job, oversized leather saddle, leather handlebar grips, and tan-colored tires. 
Large fenders keep your bathing suit clean while an easy-to-use handbrake provides plenty of stopping power. 
An Affordable Cruiser Bike for Beginners
Cycling giant Schwinn has been manufacturing high-quality bikes since 1895, and they were one of the earliest companies to develop the first cruiser bikes in the 1930s. 
The Schwinn Huron combines several of the best features in a cruiser. A classically-styled, durable steel frame and fork makes for a stable ride. The single-speed drivetrain is simple, easy to clean and maintain, and provides steady, easy traction during rides. 
Instinctive and comfortable to use, the rear backpedal brake offers smooth, secure braking power. A functional retro touch is the inclusion of front and rear fenders to cut down on backsplash and mud.
4. Firmstrong Urban Men Beach Cruiser
The Ideal Beach Cruiser for Comfortable and Easy Rides
Firmstrong is a California-based manufacturer which focuses almost exclusively on bikes built for comfortable, easy rides. 
With swooping lines and offered in a dozen vibrant colors, the Firmstrong Urban Beach Cruiser is a perfect cruiser bike at an affordable price, offering easy rides at speeds of 3 to 15 miles per hour. 
This bike has no intricate parts to fiddle with, and the 38 pound steel frame is lighter than competing bikes. The durable and stylish whitewall tires are mounted on tough but light aluminum wheels, with the rear wheel carrying no-fuss coaster brakes. 
Finally, this bike comes with an oversized saddle on double springs, allowing you to enjoy your ride in comfort and ease.
5. Retrospec Chatham Beach Cruiser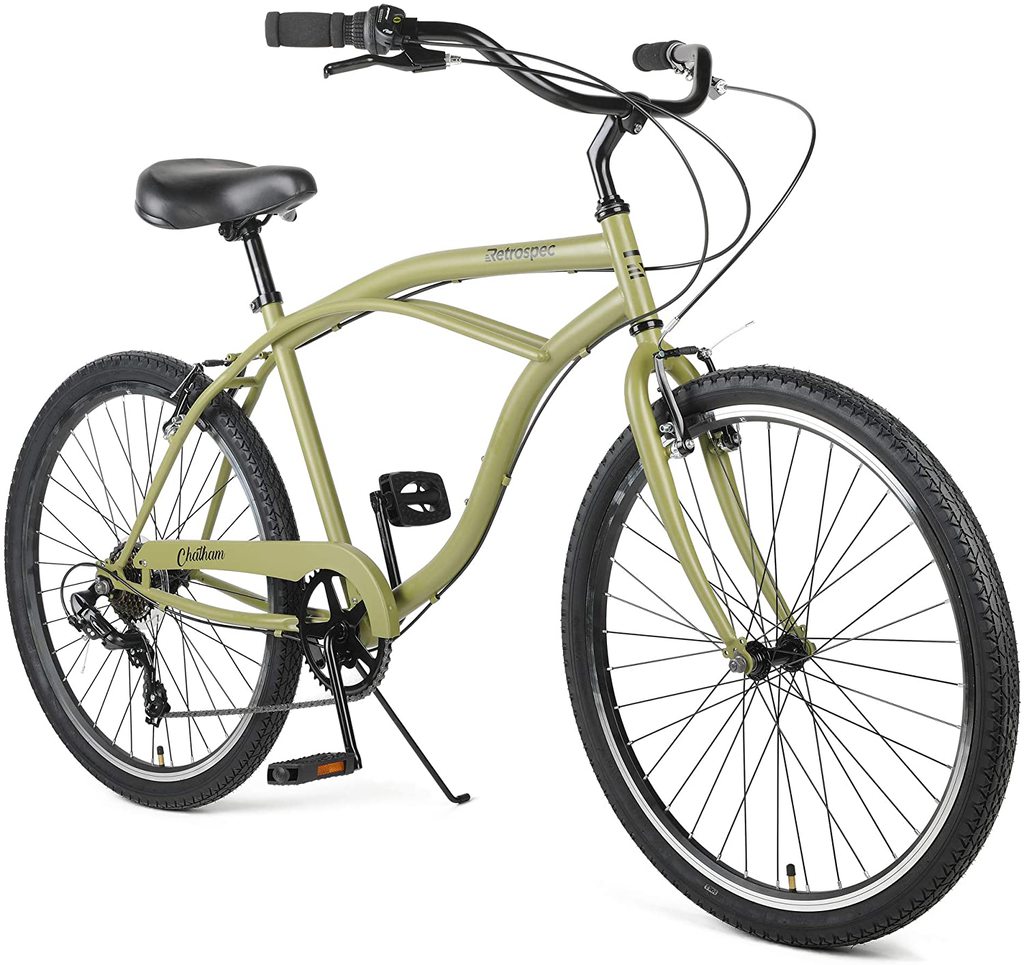 The Go-to Beach Cruiser that Combines Comfort and Sportiness
For riders on the lookout for a premium cruiser that combines comfort and sportiness, this is the go-to. The steel cruiser frame incorporates sturdy gear systems to allow you to tackle inclines and build up speed as you prefer, while rear and front brakes place firm stopping power at your fingertips. 
The Retrospec Chatham also features a high-tensile steel frame, foam grips, and wide, durable Wanda tires, all of which provide stability, and traction for smooth, relaxing rides. 
This bike is easily customized, made with eyelets at both the front and the rear for adding optional equipment, and it comes with a thick cushioned saddle to create comfort for riders of up to 250 lbs.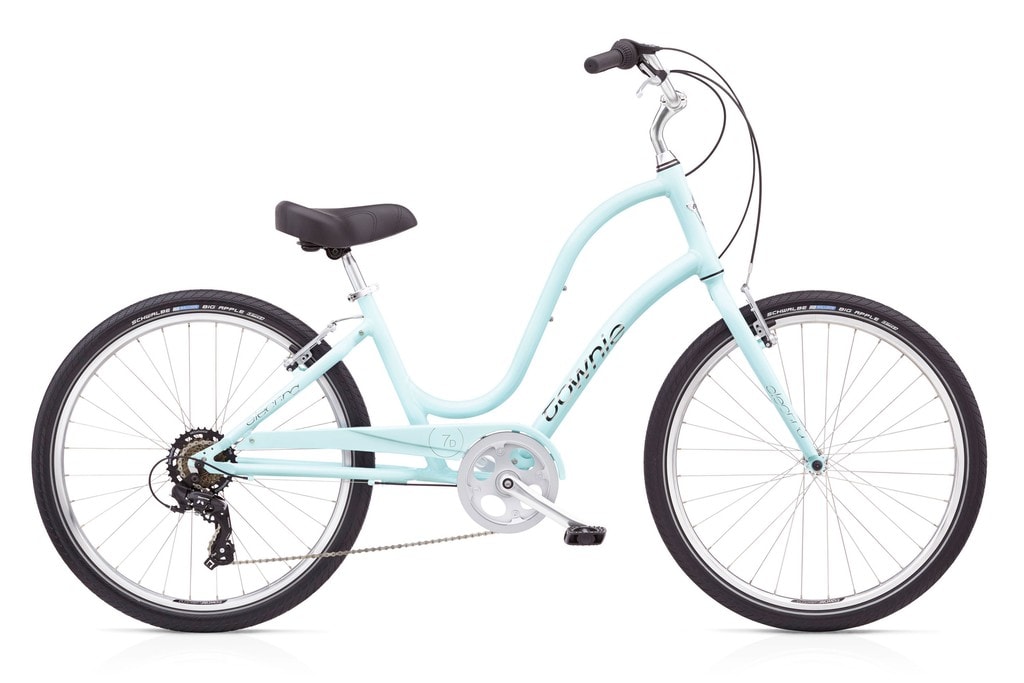 Designed for Women Looking for A Comfortable and Leisurely Ride
Back in the 2003 Electra bikes made a revolutionary invention in the world of beach cruisers when it unveiled its patented Flat Foot Technology.
Flat Foot technology makes it possible to pedal your bike with the proper leg position while at the same time having the ability to put your feet flat on the ground when needed. 
The Electra Townie uses a relaxed seat angle that extends the distance between pedal and seat while maintaining the same distance between seat and ground. For beach cruisers, this was a breakthrough. So much so that Trek gobbled up the company in 2014. 
In addition to this technology, the Electra Townie also features a 7-speed drivetrain with a simple-to-use twist shifter. Linear handbrakes allow for modulated braking while an oversized bike saddle keeps you comfortable on that commute to the beach. 
7. Firmstrong Urban Lady Beach Cruiser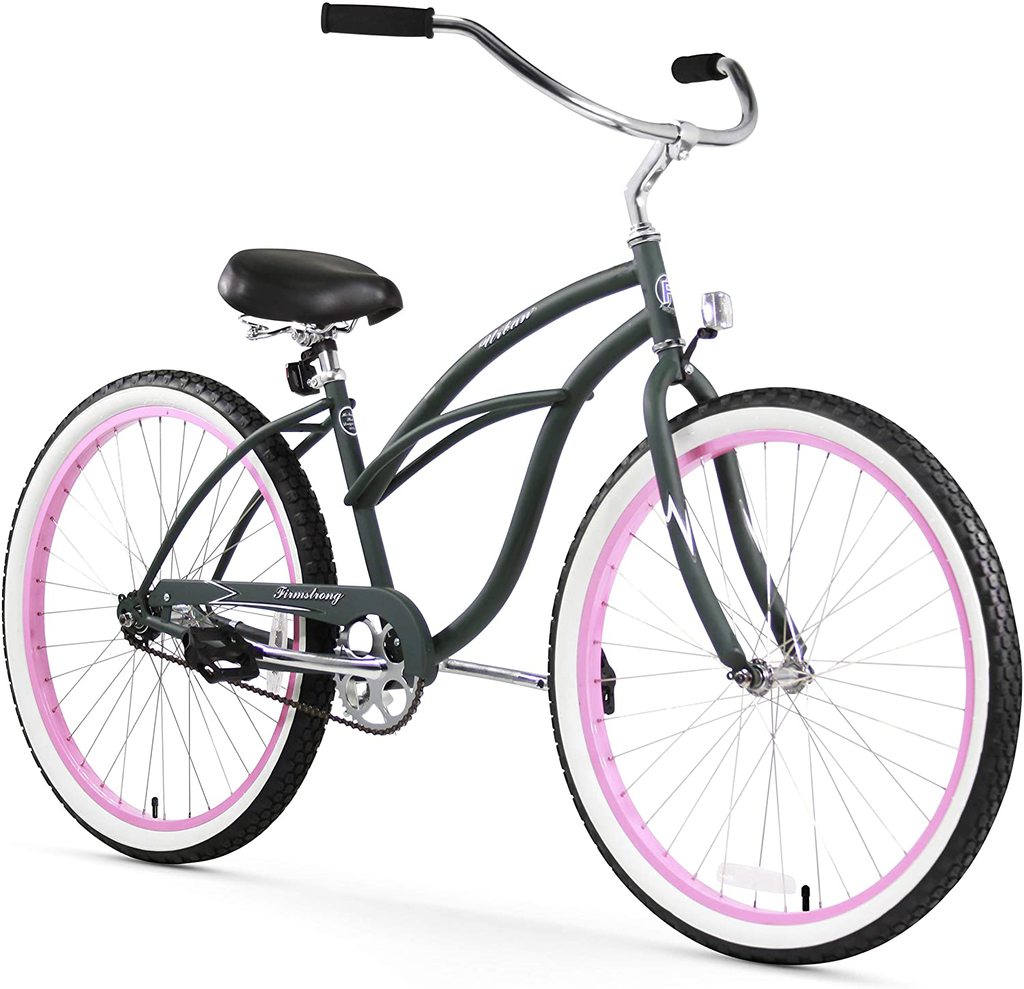 A Beach Cruiser with the Classic, Curvy Designs
Combining all the great features found in the Firmstrong Urban Beach Cruiser with design tailored for women, this affordable bike is for riders looking for a bike to last for a long time. 
The Firmstrong Urban Lady Beach Cruiser sports easy-to-use internal Shimano gearing to adjust speed and difficulty as desired, while backpedal brakes provide instant smooth stops with no complications. 
As far as style goes, this bike has even more options than its men's counterpart, with frames available in 18 different colors and choices for colored rims and seats on offer, as well. The Firmstrong offers a comfortable, steady ride, and the frame can easily accommodate riders 5 to 6 feet tall.
8. sixthreezero Around the Block
Plenty of Gears for Riding Across All Types of Terrains
Los Angeles' six three zero has been riding at the forefront of the cruiser wave since 2005, building impressive cruisers based on first-hand experience and feedback in one of the nation's hotspots for the style. 
The six ththree zero Around the Block is a premium bike which departs from traditional cruiser design by including a grip-shifted gear system to offer riders the option to tackle hills and pick up speed. It anticipates the use of cruisers for day trips and commutes by including a rear luggage rack along with a dual-spring cushioned saddle so that you can ride comfortably with small loads. 
This bike will suit riders from 5 to 6 feet 2 inches tall and comes with coaster brakes.
9. sixthreezero EVRYjourney Beach Cruiser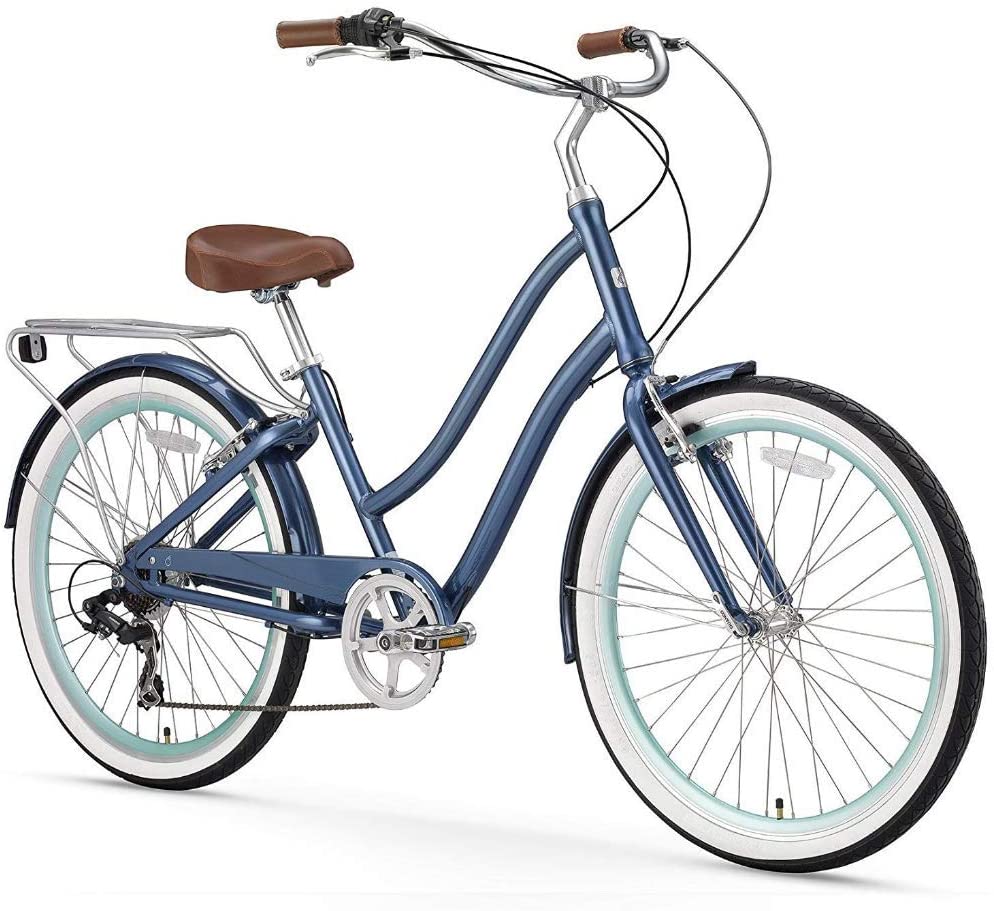 Ideal for Those After A Lightweight Beach Cruiser
The six three zero EVRYjourney is built with an aluminum frame, making this premium-priced option the ideal choice for those looking for a lighter bike. 
The step-through frame features a Shimano gearing to adapt to both short and long trips, with front and rear hand brakes providing responsive stopping. This makes it terrific for around the neighborhood as well as for commutes or day trips. 
It's also a great choice for fans of updated classic styling, with the spring-mounted cushioned seat and the handlebar grips wrapped in stitched synthetic leather and sold in a dozen different colors.
10. Schwinn Perla Womens Beach Cruiser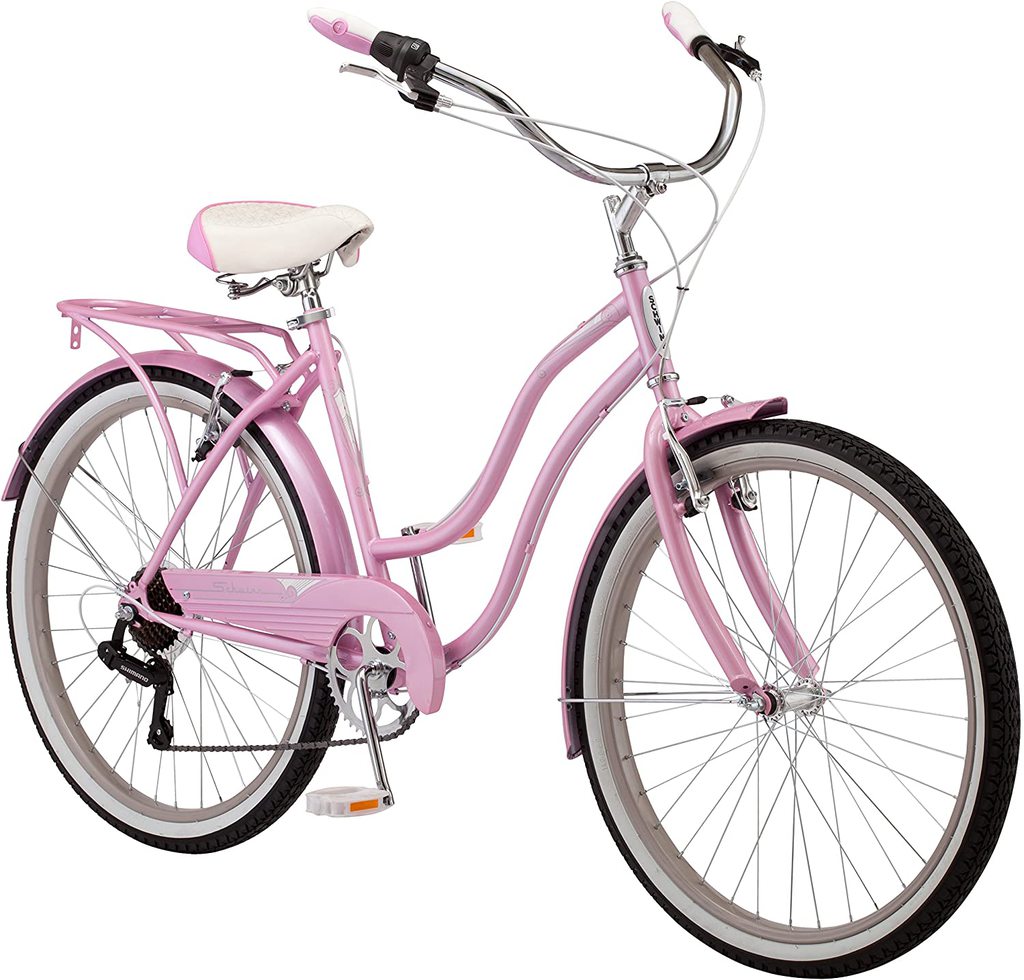 ldeal for Leisurely Rides around the Beach, Neighborhood and Parks
If pink is your color (and I mean really your color) then you'll love the very pink Schwinn Perla Womens Beach Cruiser. 
This step-through cruiser feathers a bright pink frame with a large oversized seat and white-walled tires. In addition to its flashy style, it also has a number of nice features that make riding it as much fun as looking at it. 
This includes a 7-speed Shimano drivetrain and clincher hand brakes. It also features smaller 26-inch tires, allowing for easier maneuverability as you navigate those pot-hole covered beach roads. 
Other features include a chain guard and fenders to keep you road grime and bike grease free. And, if pink really isn't your color, then you'll be happy to know that this cruiser comes in a variety of other colors including yellow, blue, and coral. 
7 Things to Consider Before Buying Beach Cruiser Bikes
As with any new purchase, it's best to learn everything you can about them before you lay your money down, and it's no different with cruiser bikes. 
Chances are that you're looking for a bike like this for ease, comfort and smooth riding.
When you decide to buy a cruiser bike, you're getting yourself a terrific ride, but cruisers have several features and qualities that set them apart from other bikes that you'll need to know before getting one.
Here are 7 of the most important things to consider when buying a cruiser bike.
1. Cruiser Bikes Are Different from Road and Mountain Bikes
Cruiser bikes tend to have several features that set them apart as a distinct type of bicycle, including steel frames, swept back upright handlebars, coaster brakes and balloon tires. 
Unlike mountain or road bikes, which have frames built for speed, cruiser bikes are curvier to support body weight in an upright position and for a smoother ride. 
Whereas these features would make no sense on a mountain bike or a road bike, they're perfect for cruiser bikes. The heavy steel frame anchors you to the ground, the frame and handlebars keep you in an upright posture, the balloon tires provide traction and low speed and the coaster brakes are easy and instinctive to use. 
Lastly, cruiser bikes tend to have flat pedals to easily accommodate ordinary shoes. All of them combine to form a bike that cruises at easy speeds on smooth or paved surfaces while keeping the rider steady and comfortable.
2. Men vs Women Cruiser Bikes
There are a couple of key differences between men and women cruisers, the most noticeable being the frame. 
Women's cruiser bike tend to be step-through, with the top tube swooping down to the bottom of the frame. This can be handy for those wanting to ride while wearing long garments like skirts, or just those who want a slightly easier time mounting and dismounting. 
This style of frame first became popular in the late 19th century when women were expected to wear ankle-length skirts, and although clothing styles and habits may have changed, these bikes are popular to this day.
The other major difference tends to be wheel size. 
Women, on average, have smaller frames and shorter legs than men, and this needs to be taken into account when buying a cruiser bike. While some, like the women's and men's versions of the Firmstrong Urban Beach Cruiser, will offer the same 26″ wheel, the women's is also available with a 24″ wheel to accommodate shorter riders.
One of the things about cruiser bikes that those accustomed to other styles may find a bit confusing at first is that they're generally offered in only one size. 
With that said, though, there are a few minor differences between frame sizes. 
While men's cruisers tend to be around 18″, like the Retrospec Chatham Beach Cruiser, they can be smaller, at 16″ or 17″, like the Schwinn Huron.
Women's frames usually vary a bit more, with frames ranging from 12″ to 17″, like the sixthreezero Around the Block. 
A frame works best with properly sized wheels, but generally speaking, a longer inseam requires a higher frame. A petite woman under 5 feet will benefit most from a 15″ frame, while someone between 5 and 6 feet will benefit from 16″ to 18″ frames. 
It's important to keep both your height and your inseam in mind when selecting a cruiser bike, as you'll get the best fit from a frame by combining these two numbers.
Cruiser bikes, by and large, are known for their steel frames, which make them exceptionally long-lived and stable. 
While the mountain and road bike crazes of the '90s made these qualities undesirable, the resurgence of casual cycling has made them great for people who want to enjoy a calmer ride. 
Additionally, because of it's density, steel absorbs bumps and vibrations well, helping to make the ride smooth.
While the classic cruiser was distinguished by its steel frame, advances in technology have made this rule general rather than universal. 
The wide tires and low center of gravity make these bikes ideal for riding at the coast, but steel has a natural enemy on the beaches; salt. 
If your steel frame becomes too scratched, it can start to rust beneath the paint. This is one reason why aluminum has grown in popularity in recent years. Resistant to salt corrosion, aluminum frames like the Trek Cruiser Lux 7D or the sixthreezero EVRYjourney are a good choice for those who want to have their cruiser around for years to come.
Cruiser bikes are generally offered in single, 3 or 7 speed configurations.
While each of these has its advantages, which one you settle for will depend heavily on where you're riding and how you prefer to get around. These bikes usually work best in relatively flat areas, where their wide tires and heavy frames are an advantage and one or 3 speeds are more than enough. 
For those riding in hilly areas, 7 or even 21 speed options like the sixthreezero Around the Block are available. Although scaling a hill won't offer the same gentle ride that a flat cruise might, it'll be considerably easier with a few more gears.
The other thing to consider with gearing is how far you're going. If you're planning to travel more than a few miles, it's a good idea to opt for a bike with extra gears. This will help you build up higher steady speed to get through your commute or a trip to the beach without spending all day on the way.
The vast majority of cruiser bike wheels come in 24″ or 26″ sizes. And while two inches might not seem like much, they'll differ widely in the experience you get from them. 
Shorter riders will benefit more from the smaller size, as it won't give them too much ground clearance or make it difficult to balance. For others, 26″ wheels, like those found on the Priority Coast or the Schwinn Huron, will do nicely.
As with frame size, the wrong one will give you either too much or too little ground clearance or room on the frame. 
For example, a 5 feet tall rider on 26″ wheels will find themselves uncomfortably far off the ground, while a 6 feet tall rider on a smaller frame with 24″ wheels will be cramped and too low-slung, unable to maneuver properly or enjoy the ride. 
Some bikes, such as the sixthreezero Around the Block comes with either size as an option for you to choose from.
7. Additional Accessories
Part of cruiser bikes' renewed (and enduring) popularity is the ability to mount a wide variety of useful accessories on the frame. 
Some manufacturers have taken special account of that, with bikes like the Retrospec Chatham Men's Beach Cruiser incorporating mounting points built into the frame. Others, like the sixthreezero Around the Block, come with pannier racks and baskets built in. 
Other common accessories also include fenders, bike bells, lights, water bottle holders and seat covers and handlebar grips.
Even if they don't come with any of these additional accessories, they're easily available and can be installed by yourself at home. 
The post The 10 Best Cruiser Bikes in 2020 appeared first on The Geeky Cyclist.
---