The 10 Best 12 Inch Bikes for Toddlers in 2020
Buying your child's first bike?
If your child is between 18 to 36 months old, chances are they'll be riding a 12″ bike. A 12″ bike is pretty straightforward as there are not that many things to consider when compared to buying an adult's bike.
On this page, I'll discuss what you'll need to know about a 12″ kids bike and share some of the kids' favorite models with you.
A Quick Glance : Our Favorite 12″ Bikes for Kids
12" Kids Bikes Buying Guide
1. Kids Aged 18 Months to 3 Years Old
When shopping for any kids' bike it's important to understand that age isn't really a good indicator of what size bike your child should be riding. One look at a group of kids of the same age and you'll know that, like adults, kids of any age come in all shapes and sizes. 
That's why it's important to look at inseam length when considering what size bike to purchase your tot. 
For a 12" kids bike, this means an inseam of 19″ to 20". With that in mind, a 12" kids bike will generally suit kids aged 18 months to 3 years old. 
Read More : 
2. Steel vs Aluminum Bike Frame
With a 12" bike, you basically have two different options to choose from when it comes to frame material: steel and aluminum. The difference isn't terribly complicated. 
Steel bikes are heavier and cheaper, while aluminum bikes are lighter and more expensive.
Why spring for an aluminum bike? 
Lighter weight bikes, such as the Trek Precaliber 12 and Specialized Riprock 12 are going to be easier for your child to handle. 
One of the more challenging things your child will need to master is starting off. This involves lifting the bike into an upright position, holding it in place, climbing into the cockpit, and producing enough forward momentum to stay upright. 
All of this is much easier for your child if the bike is lighter.
You actually have a couple of options when it comes to brakes with 12" bikes. 
Some bikes come with your standard coaster brakes, which are engaged by backpedaling. Others, such as the RoyalBaby 12″ bike and Cleary Gecko offer both coaster and front brakes. Don't expect to find a 12" bike without coaster brakes. 
It's against the law for bike manufacturers to sell bikes under 20" without them. 
Kids feel most comfortable with coaster brakes because they're simpler to use, requiring less coordination than handbrakes. That said, eventually, they'll graduate to gearing, so they'll need to learn how to use them. 
Having a handbrake on their first bike allows them to begin training for that day, making for a smoother transition when they get older.
5. Foam vs Air Filled Tires
You have two different tire styles to consider here; foam and air. 
As with most options when it comes to bikes, both have their pros and cons. 
Foam tires are lower maintenance as they require no air.
As such, there is no need to worry about adding air or fixing punctures (a real issue is given that kids' inclination to ride through all manner of road debris). 
Air-filled tires provide better shock absorption and traction.
They're more supple, allowing them to grip the road better, and the air pressure in the tire does a much better job of absorbing bumps than foam.
Regardless of how you might feel about training wheels, typically all 12" bikes will come with them.
Well, at least those with pedals.
Balance bikes, of course, are a whole different story. 
As this is typically the time when most kids will learn to ride without training wheels, these accessories are pretty easy to remove. Usually, the only tool needed to remove or install training wheels is a standard wrench. 
Some bikes, including the Specialized Riprock 12 and Cannondale Trail 12, offer training wheels that don't require a tool for installation or removal.
When considering a 12" bike, you really want something that will help your little one make that life-changing transition from riding a bike with training wheels to riding a bike without. Having a bike that is lighter weight and easier to handle will undoubtedly hasten that transition. 
That's why Co-op cycles designed the REV 12 with lightweight aluminum. 
This is a bike that your child can get a hold of without struggling. Other intuitive features include BMX style padded handlebars, a guard that keeps the chain safely away from your child's clothes, and a handle on the back of the saddle for provisioning a supportive hand when the training wheels come off. 
A customizable sticker pack adds a bit of fun to this ride.
The Cannondale Trail 12 is an excellent first step for your child's eventual transition to the larger, singletrack-ready Cannondale Trail bike. 
The Cannondale Trail 12 features a lightweight aluminum frame with a low standover height for improved control. Wide tires and riser handlebars provide stability, while a full chainguard keeps the greasy drivetrain from dirtying loose pant cuffs. 
There are also tool-less training wheels, allowing you to be ready whenever and wherever that breakthrough takes place.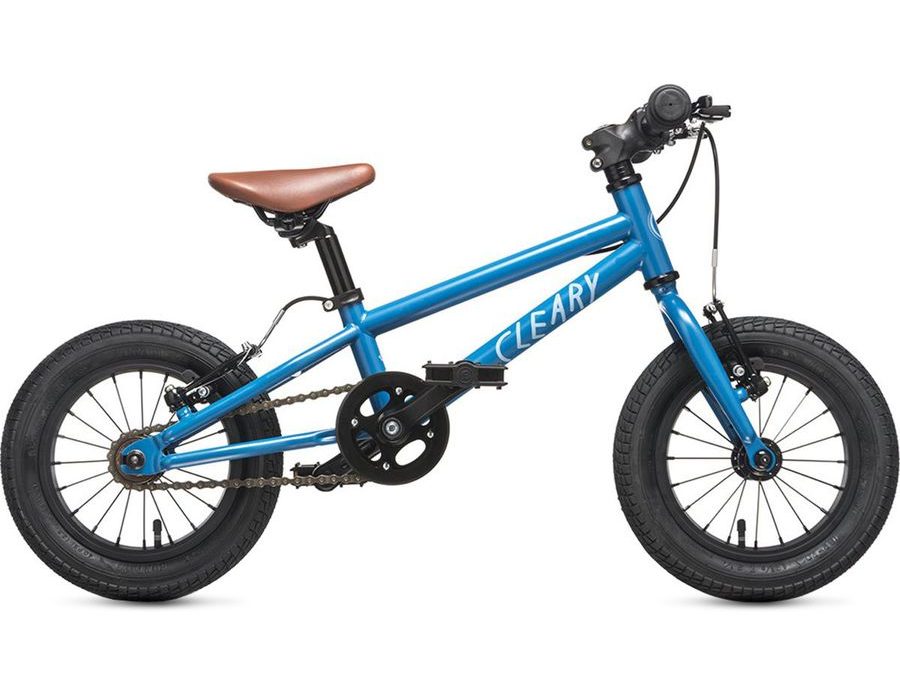 A kids' bike doesn't have to look like a kiddie bike. If you don't mind spending a little extra, then you'll love this sweet looking ride from Cleary Bikes. 
The steel-frame Clearly Gecko features an electric blue color with a faux tan leather seat, meaning your little boy will certainly have one of the best looking bikes in the neighborhood. 
It also offers plenty of design features that have young riders in mind including a low standover height for increased maneuverability and hand brakes with levers designed for small hands. 
It even has internal cable routing, keeping the brake line out of your child's way. Just keep in mind that the Clearly Gecko is designed for experienced kids as it's not compatible with training wheels.
If you're going to ride a bike with the Ferrari name attached to it, then you sure as heck want it to turn heads. That's exactly what you get with this 12" kids bike from the world-renowned performance automaker. 
The Ferrari 12" bike is appropriately candy-apple red, and, in case you're worried that the neighborhood won't know you're kid is riding a Ferrari bike, the logo is clearly displayed on the four-foot flag that extends from the rear. 
Looks are important, but they're not the only thing. The Ferrari is well equipped with a lightweight aluminum frame, soft hand grips on the handlebars, front hand brakes, and a chain guard that covers the entire drivetrain.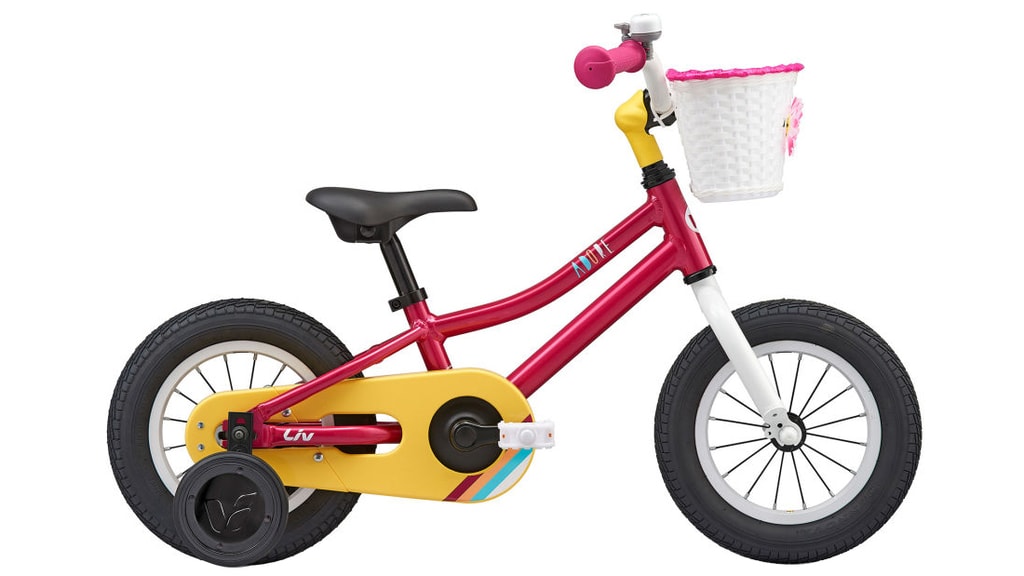 Lest you think Giant's line of women's specific bikes is only designed for, well, women, then think again. This line extends all the way down to young girls too. 
The Liv line starts with the 12" Adore. 
The Liv Adore features a low standover height, making entrances and exits easy, and a lightweight aluminum frame. A basket provides plenty of storage for toys while a bell lets the neighbors know your child is on the move. 
Other features include a full chainguard that protects your child's clothes and legs from bike grease and small-diameter handlebar grips for little hands. Your daughter will also love the bright color scheme. 
Ten years ago Miami-based Loco cycles launched as a boutique operation specializing in fixed gear bikes. Since then, the company has expanded to include multi-speed hybrids. 
But, its heart and soul are still in the development of single speed bikes. It's an important characteristic to consider when looking at its single-speed 12" kids bike. 
This single-speed kids' bike features a lightweight aluminum frame, full chain guard, and riser handlebars. It also has one of the comfier saddles as kids' bikes go. 
Another nice feature is a handle on the rear of the saddle, which allows you to keep a tight grip on the bike as you help your child make that critical transition off of training wheels. 
Not all little girls are into princesses, but for those who are (and I mean those who really are), there's this Disney Frozen inspired bike from Huffy, a company that's been manufacturing kids bikes for what seems like forever. 
From the Elsa and Anna decal on the downtube to the Olaf graphic on the chainguard, your little Frozen devotee will love this bike. 
Other Frozen-themed features include a cloth handlebar basket with a snowflake print and blue, purple,14, and white shimmering handlebar streamers. With these confidence-inspiring graphics, it won't be long before your little girl is ready to sing let it go to those training wheels.
One thing you can expect from bike manufacturing giant Trek is quality. And that's exactly what you get with the Trek Precaliber 12. 
Trek doesn't cut corners on this kids' bike. It features a lightweight aluminum frame with a low standover height, making the bike easier to manage for your little guy or girl. 
The Trek Precaliber 12 comes with tires that are notably wider than what you would find on most 12" bikes. This allows for increased stability by facilitating better shock absorption. 
Other nice features include tool-less training wheels that can be removed by loosening a dial and a chain guard that covers the entire drivetrain. 
There are few manufacturers in the world of cycling that you can count on to turn out reliable, well-made bikes, and Specialized is one of those companies. 
The Specialized Riprock 12 is a good example of the company's commitment to quality design. Specialized also knows that learning to get off those training wheels is a much easier process if your child can better control the bike. 
A lightweight aluminum frame and extra-wide tires improve stability, while a low standover height makes entrances and exits into the cockpit easier. There are also nice design touches, including a full chainguard that keeps grease off your kid's clothes and tool-less training wheels.
A sleek looking bike loaded with plenty of cool add ons is the best way to describe this 12" bike from RoyalBaby. 
This lightweight aluminum framed-bike is loaded with eye-catching features. Handbrakes help your child begin learning how to ride bigger bikes while a full chainguard keeps your kid's designed clothes protected from bicycle grease. 
A top tube cover adds style while extra cushioning on the saddle provides comfort. A bike bell and rear reflector alert pedestrians and motorists to your child's presence. 
You'll also appreciate the handle on the rear of the saddle, which allows you to hold on as your child makes that critical transition to riding without training wheels. 
The post Best 12 Inch Bikes for Kids : Top Picks and Reviews appeared first on The Geeky Cyclist.
---